Jaipur is a Popular vacation destination for tourists because it has wealthy architectural elements and all the elements are of grandeur. There are various places and things to do in Jaipur; you will find beauty everywhere in this city. When you are planning a trip to Jaipur is not about exploring the popular tourist attractions, Sampling the local food, and shopping in the old market. Where to stay in Jaipur is a common question. With so many options choosing the best heritage hotels in Jaipur becomes overwhelming. We will suggest the best heritage hotel in Jaipur so that you can enjoy your Trip.
9 Hotels in Jaipur
1) Umaid Bhavan Heritage House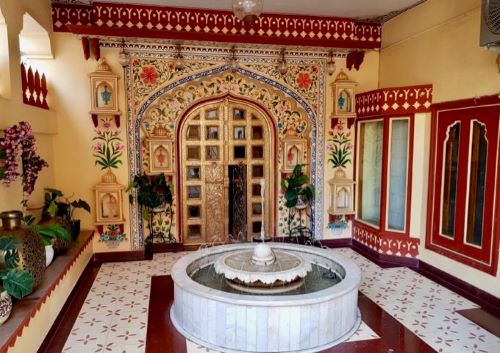 Umaid Bhawan is one of the most beautiful Heritage Hotels in Jaipur. Rooms with beautifully carved terraces and balconies, courtyards, and a significant swimming pool architecture have a stately feel that will take your breath away. Also, the Hotel is close to Hawa Mahal or a palace of wind, a popular tourist attraction. Also, it has a rooftop restaurant perfect for a romantic evening.
Address: Via Bank Road D1-2A, Bihari Marg, behind collectorate, Bani Park, Jaipur, Rajasthan.
2) Rambagh Palace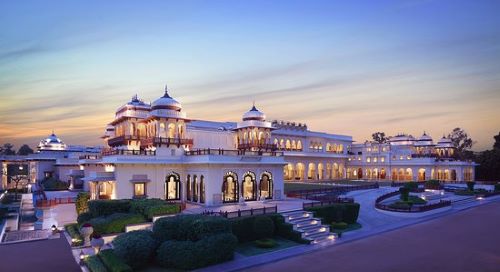 Rambagh Palace is considered one of the five hotels in Jaipur. It is close to many tourist attractions like Hawa Mahal, City Palace, and Jantar Mantar. However, it is famous for its Royalty, and elegance is reflected in every nook and corner. Also, the Hotel offers to arrange Horse-drawn carriage rides in the evening with butlers who will ensure that your stay is the most luxurious Hotel.
Address: Bhawani Singh Road, Rambagh, Jaipur, Rajasthan.
3) Samode Haveli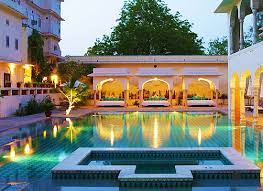 The mansion was built about 225 years ago, and time has allowed many additions and changes to the original structure. Each room in the Haveli has a unique character and reflects the rich heritage culture of Samod. Also, the Haveli offers delicious food to visitors. The restaurant that used to be the dining room is decorated with colorful hand-painted murals. Also, you can enjoy the drinks while listening to the traditional Rajasthani music and dance program in the evening. However, It is considered one of the best Heritage in Jaipur.
Address: Joravar Singh Gate, Gangapole Road Near, Gangapole, Jaipur, Rajasthan.
4) Marriot Hotel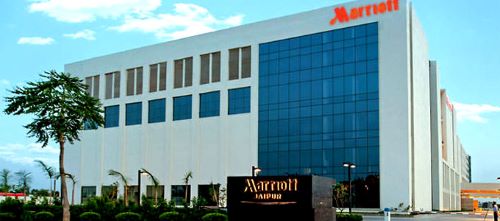 Marriot Hotel is the top five-star hotel in Jaipur. It is conveniently located near Jaipur Airport. The Hotel offers quintessential gourmet with a great variety of cuisines and a high-energy lounge bar that redefines the city's nightlife. Also, the Hotel has a fitness club that offers cardiovascular equipment and free weights fitness classes.
Address: Ashram Marg Near, Jawahar Circle, Jaipur, Rajasthan.
5) Chokhi Dhani Resort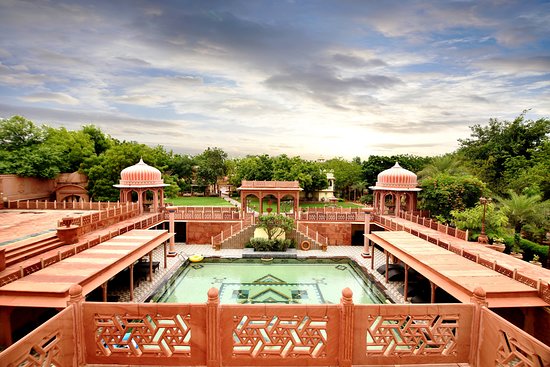 Another Heritage Hotel in Jaipur, Chokhi Dhani Resort, to experience the perfect blend of traditional and modern influences. At the same time, the resort is styled in such a way that it resembles a village. It has an outdoor pool, spa, tennis court, and restaurants. If you plan a trip to Jaipur for an authentic experience, stay at this Hotel.
Address: 12 Mile, Tonk Road, Via Vatika Sitapura, Jaipur, Rajasthan.
6) Jai Mahal Palace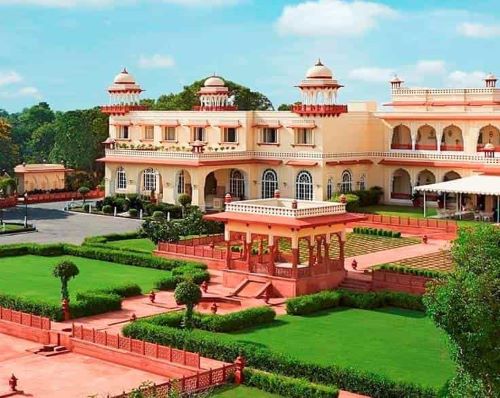 Jai Mahal Palace was initially built in 1745 and was later reported as a five-star heritage in Jaipur by the Taj Group of Hotels. Indo- Saracenic architecture with 18 acres of stunning Mughal gardens spread across the property. Also, it is very close to famous tourist attractions like City Palace, Amber Fort, Jantar Mantar, and Hawa Mahal.
Address: Jacob Road, Civil Lines, Jaipur, Rajasthan.
7) Rajasthali Resort and Spa
Rajasthali Resort, situated in the backdrop of the picturesque Aravali Hills, offers an excellent stay in the lap of nature. It provides a unique blend of Royalty, princely tradition, and modern hospitality of Rajasthan. However, the rooms are individual, with spectacular views and peacock sittings on the windows. Also, the place offers luxurious tents with a swimming pool and Jacuzzi.
Address: Delhi-Jaipur Expressway Kukas, Rajasthan
8) Shiv Vilas Resort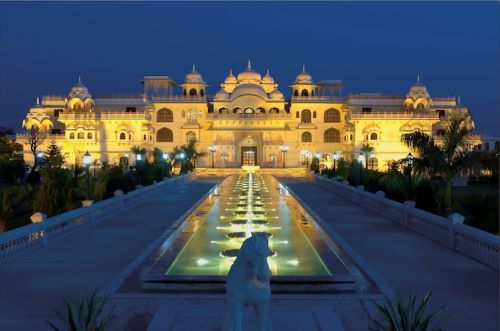 Shiv Vilas Resort is a famous Heritage Hotel in Jaipur. The architecture and Interior Reflect various Indo, Persian, and Victorian themes. Moreover, the resort is spread over thirty-two acres and is full of Lush Green trees, native flowers, and exotic birds. Also, the Hotel offers a Jacuzzi, gymnasium, sauna bath, etc.
Address: Delhi-Jaipur Expressway, Kukas, Rajasthan.
9) ITC Rajputana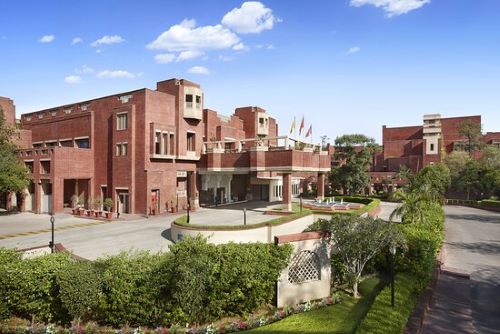 ITC Rajputana is inspired by the traditional Havelis of the region. The exterior of Rajput is made of red brick. However, the Hotel is designed with long corridors and scheduled courtyards. Also, the menus offer different International and National Cuisines ranging from the Qalandars of Urs to the contemporary global at Musafir Khana.